"Cheerily Man/Men", "Cheer'ly Man" is a sea shanty among the oldest, in its earliest versions it was a series of "shouted" orders by the shantyman with a rhythm. It was used to coordinate the efforts of the crew who responded "Cheerly man" in chorus during the pull of the rope. In this primitive form the song was called "singing out"
Italo Ottonello classifies "Cheerily Man" among the long-drag or halyard shanty "The long haul (halyard) shanties were for tasks that required heavy labor over a long period of time, usually demanding more time to set up the work, taking a deep breath and getting a fresh grip, as when raising or lowering a heavy sail. This type of shanty has a chorus at the end of each line.(1)
Cheerily Man origins

Stan Hugill writes in his "Shanties from the Seven Seas": "Cheerily Man—a halyard shanty—is only just faintly removed from singin'-out and is probably the most primitive, and one of the oldest of all these heaving and hauling songs of the sea (2)."
In JOURNAL OF A VOYAGE TO QUEBEC IN THE YEAR 1825, (P. Finan) the narrator is leaving Quebec on a brig and describes the maneuvers carried out by the crew
..topsail haliards, or rope by which the topsail is hoisted, was next ordered to be manned, and the hoisting was accompanied by a lively song, the words of which, being the extemporary composition of the seaman who led, afforded me a good deal of amusement.— One man sung, and the rest joined lustily in the chorus.
The following is a specimen
Oh rouse him up, Chorus—Oh, yeo, cheerly(3);
Newry girls, Oh, yeo, cheerly;
Now for Warrenpoint, Oh, yeo, cheerly;
Rouse him up cheerly, Oh, yeo, cheerly;
Oh, mast-head him, Oh, yeo, cheerly;
Oh, with a will, Oh, yeo, cheerly;
Cheerly men, Oh, oh, yeo (4), Oh, yeo, cheerly ;
Oh, yeo, cheerly.
According to others, "Cheerily Man" was born in the late 1700s / early 1800s from the afro-americans workers/slaves as a rowing song, which are considered the direct matrices of seafaring songs in particular for the newer halliard chanties.
"Cheerily Man" is usually taken as an example to show African-American musical influences in the creation of the sea shanties. .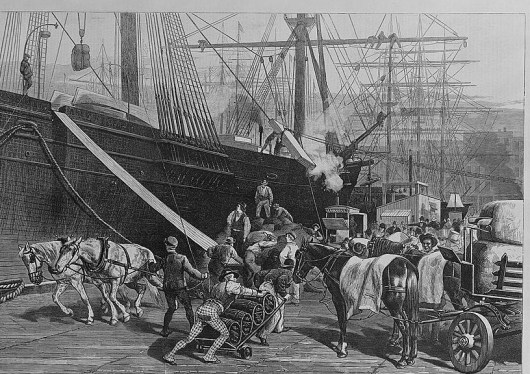 Let's not forget that there were also white stevedores, mostly sailors temporarily "unemployed" who, between one embarkation and another, preferred to spend the winter in the South Seas working as laborers in ports
"Cheerily Man/Men", "Cheer'ly Man" è un canto marinaresco (sea shanty) tra i più antichi, nelle sue prime versioni era una serie di ordini "gridati" dallo shantyman con un ritmo. Serviva per coordinare gli sforzi della ciurma che rispondeva in coro Cheerly, man durante la trazione della drizza. In questa forma primitiva il canto era detto "singing out"
Italo Ottonello classifica "Cheerily Man" tra le long-drag o halyard shanty (alaggi prolungati)
"Sono cantate quando un lavoro d'alaggio deve durare per un lungo tempo, di solito hanno uno strappo per ogni strofa, in modo da dare agli uomini l'opportunità di riposarsi tra uno e l'altro(1)"
(1) Italo Ottonello in Le vecchie canzoni dei giorni dei velieri
Alcune ipotesi sulle origini
Stan Hugill scrive nella sua "Bibbia": "Cheerily Man -un halyard shanty- derivato dalla forma del singing-out, è probabilmente il più primitivo, e uno dei più antichi di tutti questi canti marinareschi (2)."
(2) heaving songs sono i capstan o pump shanty mentre hauling songs sono i canti per le manovre alle vele
In JOURNAL OF A VOYAGE TO QUEBEC IN THE YEAR 1825, (P. Finan) il narratore sta lasciando il Quebec su un brigantino e descrive le manovre svolte dall'equipaggio per issare le vele di gabbia. I marinai accompagnano con il canto la faticosa manovra del sollevamento delle vele mediante la trazione della relativa cima. "Cheerly man" è un canto vivace, che piace parecchio al narratore, condotto dai versi improvvisati dallo shantyman e dalla risposta (lustily= gagliarda, energica e forte) degli altri marinai in coro.

Oh metteteci forza su, Coro – Oh, sì, svelti (3);
Ragazze di Newry, oh, si, svelti;
Ora per Warrenpoint, Oh, si, svelti;
metteteci forza su, allegramente, Oh, sì, svelti;
Oh, sulla testa dell'albero, Oh, sì, svelti;
Oh, di buona lena, Oh, si, svelti;
Svelti ragazzi, oh, oh, sì, oh, sì, svelti;
Oh, sì, svelti.
(3)cheerly vuol dire allegramente ma nel contesto il suo significato è un'incitazione a fare bene il lavoro
(4) Yo-heo-heo!=Urrà
Secondo altri "Cheerily Man" è nata alla fine del 1700/primi dell'800 come canzone dei rematori neri (rowing song) che sono considerate le dirette matrici dei canti marinareschi in particolare per i relativamente nuovi halliard chanties.
"Cheerily Man" è di solito preso come esempio per mostrare le influenze musicali afro-americane nella creazione dei canti marinareschi.
Nell'immagine a sinistra vediamo gli stivatori del porto che scaricano una nave alla fine del XIX secolo. Potrebbero esserci stati degli argani a vapore, ma per la maggior parte del carico si usava la forza bruta dell'uomo e della bestia per azionare corde e carrucole. (immagine dalla collezione della Biblioteca del Congresso)
Non dimentichiamo che nei porti c'erano anche molti stivatori bianchi per lo più marinai momentaneamente "disoccupati" che tra un imbarco e l'altro preferivano svernare nei Mari del Sud lavorando come manovalanza portuale.
Cheerily Man & Folk Revival
The most common version is the one concerning the cheerful "girls" of the sailors. This version of Cheerily Man is believed to be the origin of "Little Sally Racket".
The text is very similar to that published by Joanna C. Colcord who in "Songs of American Sailor Man" cleans up the text: "the words are too racy to reproduce without considerable editing."
La versione più diffusa è quella che riguarda le allegre "ragazze" dei marinai. Si ritiene che questa versione di Cheerily Man sia all'origine di "Little Sally Racket ".
Il testo è molto simile a quello pubblicato da Joanna C. Colcord che in "Songs of American Sailor Man "ripulisce" il canto": "le parole sono troppo audaci da riprodurre senza modifiche considerevoli".
Roll And Go(p29),
American Sea Songs and Chanteys (words only)(p32-3),
Sea Songs and Shanties(p89-90),
Songs of American Sailormen(p77),
A Book Of Shanties(p41),
An American Sailor's Treasury(words only)(p38-9),
The Way Of The Ship(p54-5),
Shanties from the Seven Seas(II)(p234-7),
Shanties from the Seven Seas (complete)(II)(p313-15)
Storm Weather Shanty Choir in Cheer Up Me Lads! 2002
https://www.shantychoir.com/about-the-choir/discography-and-lyric-library/cheerily-man/
I
Oh, Nancy Dawson, aye oh Hi-oh! Cheerly, man!
She rubbed the Bo'sun (1), aye oh Hi-oh! Cheerly, man!
That was a caution, aye oh Cheerly, man,
Haulee, Hi-oh, Cheerly, man.
II
Oh, Sally Racket,/ Pawned my best jacket,
And sold pawn (sold) the ticket,
III
Oh, Kitty Carson,/ Jilted (2) the parson,
Married a mason,
IV
Oh, Betsy Baker,/ Lived in Long Acre,
Married a Quaker,
V
Oh, Jenny Walker,/ Married a hawker,
That was a corker,
VI
Oh, Polly Riddle,/ Broke her new fiddle (3),
Right through the middle
VII (4)
Oh Annie Duckett/ Washed in a bucket
She's an old whore, don't you know
VIII
Oh Susie Skinner/ Says she's a beginner
Prefers it to dinner
IX
Here comes the Captain/Bully old bastard
Over the side he must go
X
He's got a daughter/ Puts on a hell of a show
Some say she never says no
XI
We went to Exmouth/ Courted the women
I know they never say no

NOTES
1) The Exmouth Shanty Men "She's got a notion
For our old Bosun"
2) jitted= Jilted
3) in traditional songs the violin is not just a musical instrument, but it concerns the sexual act
I
Oh, Nancy Dawson, Hi-oh! Svelto, ragazzo!
si fece il Nostromo, Hi-oh! Svelto, ragazzo!
come avvertimento!
Svelto, ragazzo! Alare, Hi-oh! Svelto ragazzo
II
Oh, Sally Racket, si è impegnata la mia giubba migliore,
e ha venduto il biglietto
III
Oh, Kitty Carson, abbandonò il parroco,
e sposò un muratore.
IV
Oh, Betsy Baker, visse a Long Acre,
e sposò un quacchero.
V
Oh, Jenny Walker, sposò un venditore ambulante,
che era uno fenomeno.
VI
Oh, Polly Riddle, ruppe il nuovo violino,
proprio nel mezzo.
VII
Oh Annie Duckett lavava in un mastello
non lo sai che è una vecchia puttana?
VIII
Oh Susie Skinner dicono che sia una principiante
e lo preferisce alla cena
IX
Ecco che arriva il Capitano, miei gran bastardi
deve andare fuori bordo
X
C'ha una figliola che ha messo su un bel gruppo
alcuni dicono che non dice mai no
XI
Andavamo a Exmouth per corteggiare le ragazze
che sappiamo non dicono mai di no

NOTE
1) The Exmouth Shanty Men "Ha un regalino per il nostro vecchio nostromo"
2) jitted= Jilted
3) nelle canzoni tradizionali il violino non è solamente uno strumento musicale, ma riguarda l'atto sessuale
Cheerily man (Short Sharp shanties)

Haulee, hiyo! (1) Cheerly, man/men!
Walk him up O Cheerly, man/men
Haulee, hiyo! Cheerly, man/men!

[Haul together, hiyo!
Haul for good weather, hiyo!
She's light as a feather, hiyo!]
Oh to the cathead, hiyo!
We'll raise/ship the dead,
she's heavy as lead, (heavy as lead.)
Oh Forthy chocks
Oh glitter blocks
oh on the blocks, oh on the blocks.
Oh, rouse an' shake her,
oh, shake an' wake her,
Go we'll make her, Go we'll make her)
[Haul again, hiyo!
With might and main, hiyo!
Oh, pay out more chain , hiyo!
Chain-stopper bring , hiyo!
Pass through the ring, hiyo!
Oh haul and sing, hiyo!
She's up to the sheave , hiyo!
At cat-head we'll leave, hiyo!
Soon the tackle unreeve , hiyo!
Pull one and all, hiyo!
On the old cat-fall, hiyo!
And then belay all, hiyo!]

Traduzione italiana Italo Ottonello
Ala aye yeo Svelto, ragazzo!
avvicinalo Svelto, ragazzo!
Ala aye yeo, Ala aye yeo Svelto, ragazzo!

[Alate tutti assieme
alate giacchè il tempo è bello
è leggera come una piuma!]
Alla gru di capone,
Solleveremo/imbarca il carico, 
è pesante come piombo, pesante come piombo, 
oh 40 passacavi 
oh lucida i i bozzelli
oh ai bozzelli, ai bozzelli
oh, metteteci forza e spostatela, 
oh, spostatela e sollevatela, 
dai, che la sistemeremo, dai, che la sistemeremo
[Aleremo ancora
mettendocela tutta
filate più catena!
Portate la bozza di catena
incocciatela nel golfare
oh alate e cantate.
E' arrivata alla puleggia
con la gru di capone finiremo
presto dispasseremo il paranco
alate tutti assieme
il vecchio tirante del capone
poi date volta tutti alla caviglia.]

NOTE in parentesi quadre i versi cantati solo da Seán Dagher in parentesi tonde quelli cantati solo da Barbara Brown
(1) Oh, oli, hiyo/aye yeo,
LINK
https://terreceltiche.altervista.org/una-canzone-per-ogni-manovra/
https://mudcat.org/thread.cfm?threadid=152560&desc=yes
http://mudcat.org/thread.cfm?threadid=129532
http://mudcat.org/thread.cfm?threadid=27618
http://www.jsward.com/shanty/cheerily_man/index.html
http://www.jsward.com/shanty/cheerily_man/colcord.html