Popolarissima melodia (vedi) abbinata con diversi testi in gaelico irlandese che narrano di amori sfortunati, oscillando tra il dolce e l'amaro.
LA DONNA BIONDA
Cailín Na Gruaige Báine, scritto anche come Cailin Na Gruige Bhana, (The Girl Of The Fair Hair) è probabilmente una variante  della canzone già tradotta da Samuel Ferguson con il titolo "The fair-haired girl".
Quella che apparentemente è una canzone di abbandono, perdita e separazione assume una dimensione soprannaturale interpretandola attraverso il filtro del mito: la donna bionda di cui il protagonista è disperatamente innamorato è infatti una donna cigno.
Il tema del sentimento non corrisposto viene esacerbato dal sentimentalismo e l'autocommiserazione. E' tipico del canto irlandese manifestare una tale disperazione per un amore infranto, gli scozzesi invece si consolano più facilmente con il detto "ci sono molti pesci nel mare"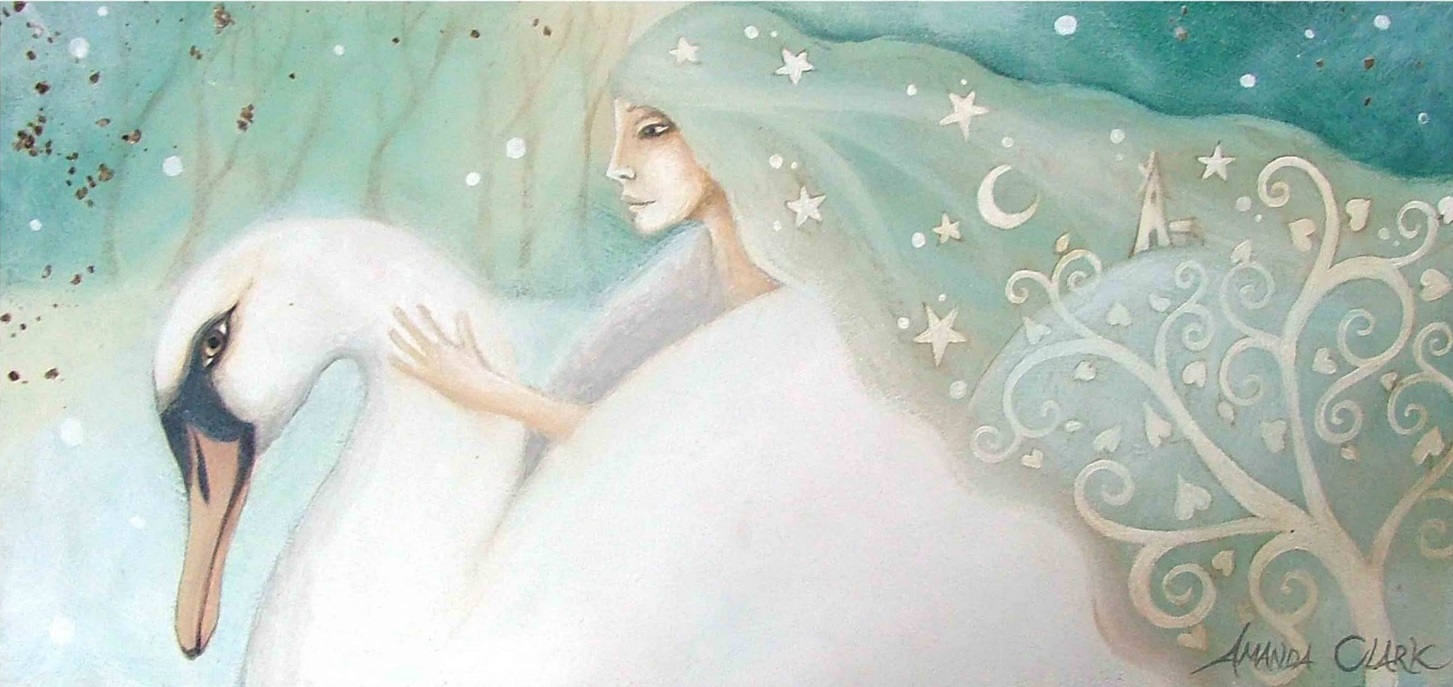 ASCOLTA Aoife Ní Fhearraigh in Aoife 1996

ASCOLTA ancora Aoife nell'arrangiamento in Winter's Crossing 1998, con James Galway & Phil Coulter 

I
Is uaigneach mo shaol go gruama faraoir,
'Mo thruaill bhocht gan siamsa 'tá mé,
'S is brónach a bhím gan suaimhneas na hoích'
Go buartha lag cloíte cráite.
II
'Sí 'n stuabhean gheal   chaoin a rinne gual de mo chroí
'S níl suairceas a choíche i ndán domh
Ó luach liom mar mhnaoi go luat' dtús mo shaoil
Mo chailín na gruaige báine (1).
III
'S í bláth bán na   gcraobh í, thug barr ar gach scéimh
Le háilleacht le méid 's le breáchta,
'Sí d'fhág mé faoi léan, 'si chráigh mé gan bhréig
'Gus tá 'fhios ag Mac Dé   mo chás-sa.
IV
Dá bhfaighinnise mo   rogha, ó b'ansa liom é
Bheith ar láimh leis a' spéirbhean álainn
'S ní náire ar bith liom é nó 's í grá geal mo chléibh
Mo chailín na gruaige báine.
V
Dá dtigeadh sí arís ar chun mo thí
Nach mise bheadh aoibhiúil sásta,
'S níl áit ar bith dár mhain léi nach mbainfinnse fúm
Ach cead 'fháil mo shaol a chaitheamh léi.
VI
Nach trua mise   'smaointiú go dimhain in mo chroí,
Nach bhfeicim arís go brách í,
Taím buartha bocht faoi chian is ní mhairfead beo bliain
Gan cailín na gruaige báine.
TRADUZIONE INGLESE
I
My solitary life is cheerless alas
I am a poor wretch without any diversion
I am most sorrowful
with no rest at night
Disturbed, weak,exhausted and tormented
II
'Tis a stately, fair, delicate woman
who turned my heart to coal
And I will never be cheerful again
Since I became involved
with a woman early in my life
My fair-haired girl (1)
III
She's the fairest flower of them all,
the  most beautiful in form
With the utmost and finest beauty
I left her in sorrow,/ undoubtedly I tormented her/ And the Son of God knows my reason
IV
If I could have my choice,
oh it would be my dearest wish
To be holding the hand of
that beautiful young girl
And I'm not ashamed at all
that she is the love of my life
My fair-haired girl
V
If she would come again to my house
Wouldn't I be smiling and happy
And there's nowhere at all
that I wouldn't settle if she wanted
Just let me spend my life with her
VI
Aren't I pitiful forever
thinking in my heart
That I will never see her again
I am so sorrowful and sad
that I will not live a year
Without the fair-haired girl.
tradotto da Cattia Salto
I
La mia vita solitaria è ahimè senza amore, sono un povero miserabile, senza alternative,
tristi sono le mie notti
e senza riposo,
così agitato, debole, esausto e tormentato.
II
E' per la bella, gentile e nobile dama
che ha mutato il mio cuore in pietra
e non sarò mai più felice,
da quando mi sono innamorato
della donna della mia vita,
la mia fanciulla bionda. (1)
III
Lei è il fiore più luminoso di tutti,
dalla forma più bella,
con la bellezza più sopraffina.
Io l'ho fatta soffrire,
di sicuro l'ho tormentata
e Gesù conosce le mie ragioni.
IV
Se potessi scegliere,
oh, sarebbe il mio desiderio più caro
essere il sostegno di quella bella ragazza
e non me ne vergognerei
perchè lei è l'amore della mia vita,
la mia fanciulla bionda.
V
Se ritornasse di nuovo a casa,
non potrei essere che felice e contento, e non ci sarebbe altro luogo in cui vorrei essere, se lei mi lasciasse soltanto starle accanto per tutta la vita.
VI
Non sarò per sempre infelice
pensare in cuor mio
che non potrò più rivederla?
Sono così preoccupato e addolorato  che non continuerò a vivere senza la mia fanciulla bionda
NOTE
1) In gaelico irlandese báine vuol dire "White, Fair" e indica un colore chiaro e luminoso oppure pallido: riferito ai capelli è la colorazione biondo chiaro quasi argenteo tipica delle popolazioni norrene.>
FONTI
http://ontanomagico.altervista.org/swan-maiden.htm
http://mudcat.org/thread.cfm?threadid=5500
http://mudcat.org/thread.cfm?threadid=34917
http://thesession.org/tunes/6786