Ho Molly, come down
Come down with your pretty posy
Come down with your cheeks so rosy
Ho Molly, come down"
(from Gordon Grant "SAIL HO!: Windjammer Sketches Alow and Aloft", New York 1930)
To introduce two new sea shanties in the archive of Terre Celtiche blog I start from Moby Dick (film by John Huston in 1956) In the video-clip we see the "Pequod" crew engaged in two maneuvers to leave New Bedford, (in the book port is that of Nantucket) large whaling center on the Atlantic: Starbuck, the officer in second, greets his wife and son (camera often detaches on wives and girlfriends go to greet the sailors who will not see for a long time: the whalers were usually sailing from six to seven months or even three – four years). After dubbing Cape of Good Hope, the"Pequod" will head for Indian Ocean.
It was AL Lloyd who adapted "Bunch of roses" shanty for the film, modifying it with the title "Blood Red Roses". It should be noted that at the time of Melville many shanty were still to come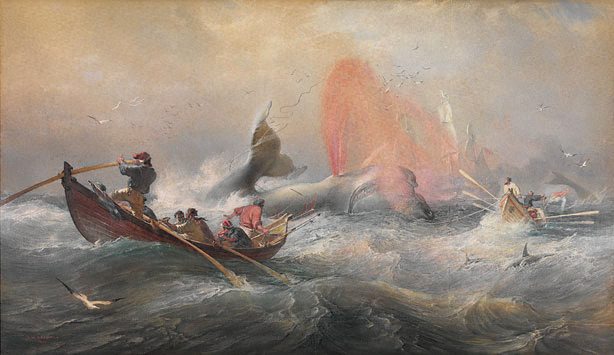 It's round Cape Horn we all must go
Go down, you blood red roses, Go down
For that is where them whalefish blow
Go down, you blood red roses, Go down
Oh, you pinks and posies
Go down, you blood red roses, Go down
It's frosty snow and winter snow
under's many ships they 'round Cape Horn
It's your boots to see again
let you them for whaler men
Assassin's Creed Rogue (Nils Brown, Sean Dagher, Clayton Kennedy, John Giffen, David Gossage)

Me bonnie bunch of Roses o!
Come down, you blood red roses, come down (1)
Tis time for us to roll and go
Come down, you blood red roses, Come down
Oh, you pinks and posies
Come down, you blood red roses, Come down

We're bound away around Cape Horn (2),


Were ye wish to hell you aint never been born,
Me boots and clothes are all in pawn (3)
Aye it's bleedin drafty round Cape Horn.
Tis growl ye may but go ye must
If ye growl to hard your head ill bust.
Them Spanish Girls are pure and strong
And down me boys it wont take long.
Just one more pull and that'll do
We'll the bullie sport  to kick her through.
NOTES
1) this line most likely was created by A.L. Lloyd for the film of Mody Dick, reworking the traditional verse "as down, you bunch of roses", and turning it into a term of endearment referring to girls (a fixed thought for sailors, obviously just after the drinking). I do not think that in this context there are references to British soldiers (in the Napoleonic era referring to Great Britain as the 'Bonny bunch of roses', the French also referred to English soldiers as the "bunch of roses" because of their bright red uniforms), or to whales, even if the image is of strong emotional impact:"a whale was harpooned from a rowing boat, unless it was penetrated and hit in a vital organ it would swim for miles sometimes attacking the boats. When it died it would be a long hard tow back to the ship, something they did not enjoy. If the whale was hit in the lungs it would blow out a red rose shaped spray from its blowhole. The whalers refered to these as Bloody Red Roses, when the spray became just frothy bubbles around the whale as it's breathing stopped it looked like pinks and posies in flower beds" (from mudcat here)
2) Once a obligatory passage of the whaling boats that from Atlantic headed towards the Pacific.
3) as Italo Ottonello teaches us "At the signing of the recruitment contract for long journeys, the sailors received an advance equal to three months of pay which, to guarantee compliance with the contract, it was provided in the form of "I will pay", payable three days after the ship left the port, "as long as said sailor has sailed with that ship." Everyone invariably ran to look for some complacent sharks who bought their promissory note at a discounted price, usually of forty percent, with much of the amount provided in kind. "The purchasers, boarding agents and various procurers," the enlisters, "as they were nicknamed," were induced to 'seize' the sailors and bring them on board, drunk or drugged, with little or no clothes beyond what they were wearing, and squandering or stealing all sailor advances.

Sting from "Rogue's Gallery: Pirate Ballads, Sea Songs, and Chanteys" ANTI 2006. 
The textual version resumes that of Louis Killen and this musical interpretation is decidedly Caribbean, rhythmic and hypnotic ..

Our boots and clothes are all in pawn
Go down, you blood red roses, Go down
It's flamin' drafty (1) 'round Cape Horn
Go down, you blood red roses, Go down
Oh, you pinks and posies Go down,
you blood red roses, Go down
My dear old mother she said to me,
"My dearest son, come home from sea".
It's 'round Cape Horn we all must go
'Round Cape Horn in the frost and snow.
You've got your advance, and to sea you'll go
To chase them whales through the frost and snow.
It's 'round Cape Horn you've got to go,
For that is where them whalefish blow(2).
It's growl you may, but go you must,
If you growl too much your head they'll bust.
Just one more pull and that will do
For we're the boys to kick her through
NOTES
1) song in this version is dyed red with "flaming draughty" instead of "mighty draughty". And yet even if flaming has the first meaning "Burning in flame" it also means "Bright; red. Also, violent; vehement; as a flaming harangue" (WEBSTER DICT. 1828)

"Go Down, You Blood Red Roses" is a game for children widespread in the Caribbean and documented by Alan Lomax in 1962
LINK
http://pancocojams.blogspot.com/2013/11/debunking-myth-that-go-down-you-blood.html
http://pancocojams.blogspot.com/2013/11/coming-down-with-bunch-of-roses-lyrics.html
http://songbat.com/archive/songs/english-americas/blood-red-roses
http://mainlynorfolk.info/lloyd/songs/bloodredroses.html
http://mudcat.org/thread.cfm?threadid=34080 http://www.well.com/~cwj/dogwatch/chanteys/Blood%20Red%20Roses.html
http://www.wtv-zone.com/phyrst/audio/nfld/36/blood.htm http://will.wright.is/post/1367066738/jon-contino