Read the post in English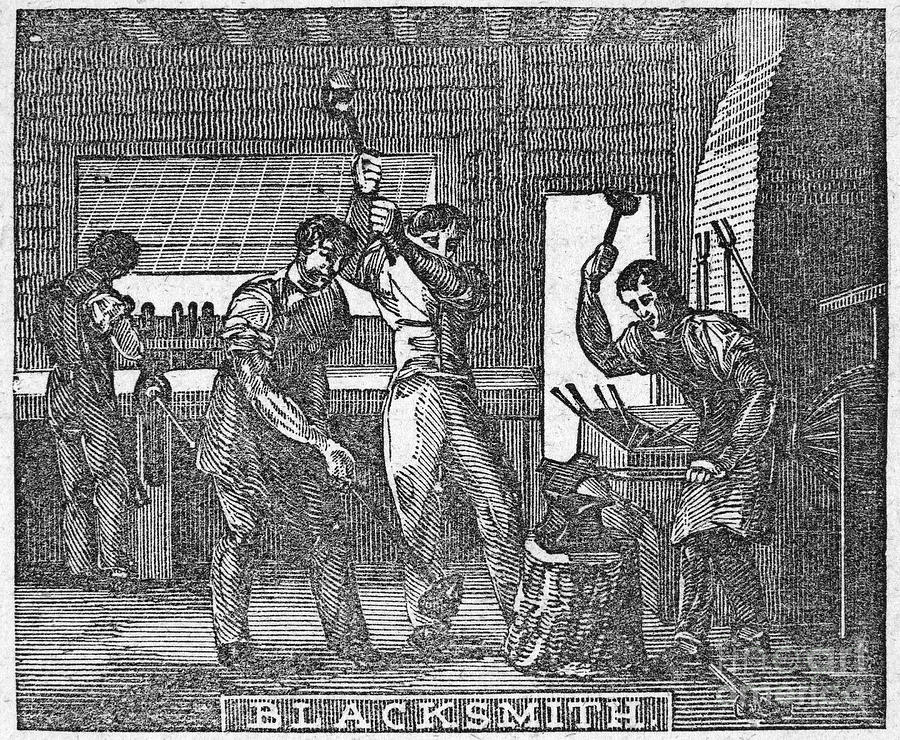 Da sempre nelle canzoni popolari il maniscalco è considerato sinonimo di virilità, amante molto dotato e dalla forza portentosa.
"A blacksmith courted me" proviene dalla  tradizione popolare inglese ed è riportato in molte collezioni di inizio novecento; un brano che non si trova propriamente nella tradizione irlandese ma che è stato interpretato da vari artisti di area celtica. Fu Ralph Vaughan Williams a raccoglierlo sul campo nel 1909 dalla signora Ellen Powell di Westhope vicino a Weobley, Herefordshire; anche intitolato semplicemente "The Blacksmith".
Particolarmente diffusa in Scozia la figura dell'Anvil Priest: con un colpo di martello sull'incudine (in inglese anvil) il fabbro dichiarava gli sposi marito e moglie!
http://ontanomagico.altervista.org/matrimonio-celtico-storia.html
THE BLACKSMITH
Il fabbro lascia la sua innamorata in paese (per cercare fortuna all'estero), le scrive una lettera d'amore (ma insincera) e ritorna sposato con un'altra.
Planxty live 1979:  versione e arrangiamento diventati "standard", la parte strumentale scritta da Andy Irvine si è poi ulteriormente evoluta in una jig che ha preso vita propria nelle session di danza.

Eddi Reader in "Mirmama" 1991 (stile world music)

Loreena McKennitt in Elemental 1985

Lisa Knapp in "Wild and Undaunted" 2007

David Gibb & Elly Lucas in "Old Chairs to Mend" 2012

Sheila Chandra (strofe I, III, IV, V, I) in un'interpretazione molto intensa e tutta particolare

Dal The Penguin Book Of English Folk Songs, "Sung by Mrs. Powell, nr. Weobley, Herefordshire. [Collected by] Ralph Vaughan Williams 1909."

I
A blacksmith courted me,
nine months and better
he fairly won my heart,
wrote me a letter
with his hammer in his hand (1),
he looked quite clever
and if I was with my love,
I'd live forever
II
But where is my love gone
with his cheeks like roses?
and his good black billycock on
decked round with primroses?
I'm afraid the shining sun
will shine and burn his beauty
and if I was with my love,
I'd do my duty
III
Strange news is come to town,
strange news is carried
strange news flies up and down
that my love is married
I wish them both much joy
though they can't hear me
and may God reward him well
for the slighting of me(2)
IV(3)
"Don't you remember when
you lay beside me,
and you said you'd marry me
and not deny me"
"If I said I'd marry you,
it was only for to try you
so bring your witness love
and I'll not deny you"
V
"No, witness have I none
save God almighty
and may he reward you well
for the slighting of me"
Her lips grew pale and wan,
it made her poor heart tremble
to think she loved a one and he proved deceitful.

Traduzione italiano di Cattia Salto*
I
Un fabbro mi corteggiò
per nove mesi e più
e infine conquistò il mio cuore
e mi scrisse una lettera
e con il martello in mano,
sembrava tanto saggio
-accanto al mio amore
per sempre vivrei
II
Ma dove se ne è andato il mio amore con le sue guance di rosa
e la sua bella bombetta nera,
guarnita di primule?
Ho paura che il sole splendente
scotterà e brucerà la sua bellezza
– accanto al mio amore
farei il mio dovere
III
Strane notizie sono arrivate in città, strane notizie si propalano,
strane notizie circolano in lungo e in largo che il mio amore si sia maritato! Auguro a entrambi molta gioia,
anche se loro non mi sentono
e possa Dio ricompensarlo bene
per l'offesa che mi ha recato.
IV
"Non ti ricordi quando
giacevi accanto a me
e dicevi che mi avresti sposata
e non mi rinnegavi!".
"Se ho detto che ti avrei sposata
era solo per metterti alla prova
perciò prendi il tuo testimone, amore, e io non rifiuterò"
V
"No, non ho nessun testimone,
mi salvi Dio Onnipotente,
e possa egli ben ricompensarti
per l'offesa che mi ha recato."
Le sue labbra divennero pallide e smorte, il suo povero cuore si mise a tremare al pensiero di aver amato uno che si è dimostrato bugiardo.

NOTE
*(revisione della traduzione tratta da qui)
1)  nella lettera doveva essere inclusa una fotografia di lui intento al lavoro
2) ovviamente queste sono maledizioni
3) la strofa descrive l'incontro tra il fabbro ritornato sposato con un'altra e l'ex-fidanzata abbandonata in paese: lui mi sembra cadere dalle nuvole e negare l'evidenza!
VERSIONE STRUMENTALE THE BLACKSMITH
Il brano è suonato anche in versione strumentale come una jig probabilmente sviluppando la versione dei Planxty. Con il titolo di Merry Blacksmith si identifica invece un reel
FONTI
http://mainlynorfolk.info/shirley.collins/songs/theblacksmith.htm
lhttp://www.joe-offer.com/folkinfo/songs/2.html
http://www.joe-offer.com/folkinfo/forum/39.html
http://www.8notes.com/scores/3547.asp
http://www.pteratunes.org.uk/Music/Music/Lyrics/Blacksmith.htm
lhttp://www.pteratunes.org.uk/Music/Music/Lyrics/Blacksmith2.html http://thesession.org/tunes/1526
http://mudcat.org/thread.cfm?threadid=10786 http://www.china2galway.com/song%20words%20Blacksmith.htm