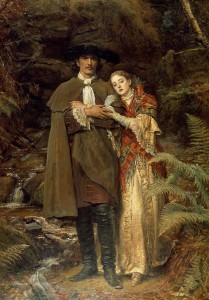 La canzone è tratta da un poema di James Hogg (1770-1835) che probabilmente ha anche coniato il termine bizzarro del titolo, formato dalle parole birnie ('land covered with birns, i.e. scorched stems of heather') e bouzy ('covered with bushes') in italiano è traducibile come "cespugli d'erica", ovvero "brughiera cespugliosa"!
LA MELODIA: The Braes O' Tullymet
La poesia risale al 1810 (raccolta in "The Forest Minstrel") composta sulla melodia di 'The Braes O' Tullymet', ovvero "The Red-Haired Girl of Tulloch", ma la tradizione orale ha cambiato notevolmente la composizione originaria. Sulla melodia, una strathspey del Pershire, è costruita anche una scottish country dance VEDI
La melodia è considerata una sorta di antenata del famosissimo Cooley's reel
YE'LL BE CANTY
Birniebouzle è in pratica una promessa matrimoniale da parte del futuro marito: egli promette che terrà la moglie ben vestita e ben nutrita, che la tratterà bene  e che le darà tanti bambini. Nel matrimonio di un tempo era fondamentale che l'uomo fosse in grado di mantenere la famiglia, la donna doveva invece avere molti più requisiti fisici e morali, e non in ultimo anche una dote.
Non ci sono molte registrazioni in rete anche se la canzone è tutto sommato piuttosto popolare in Scozia, soprattutto durante i matrimoni, visto il testo!
ASCOLTA Tannahill Weavers in "Are you sleeping Maggie" 1976
ASCOLTA Drinkers Drouth in "A tribute" 2001 (vedi scheda qui)

ASCOLTA Finn Mac Cuill 1978

Il testo è scritto in Scots, il dialetto scozzese con il quale molti poeti scozzesi si sono cimentati.



CHORUS




Gin ye'll mairry me, lassie,




at the kirk o' Birnie Bouzle




Till the day ye dee, lassie,




ye will ne'er repent it




I




Ye will wear when ye are wed




a kirtle(1) and a Hieland plaid(2)




And sleep upon a heather bed




sae couthy and sae canty




CHORUS




Ye will gang sae braw, lassie,




tae the kirk o' Birnie Bouzle




Little brogues(3) an' a', lassie,




vow, but ye'll be canty




II




Your wee bit tocher(4) is but sma',




but hodden grey(5) will wear for a'




And I'll save my siller tae mak ye braw




an' ye will ne'er repent it




III




We'll hae bonnie bairns an' a',




some lassies fair an' laddies braw




Just like their mither ane an' a',




an' yer faither he's consented




IV




We'll hunt the otter an' the brock,




the hart, the hare, the heather cock




An' I'll pu' ye limpets frae the rock




tae mak yer dishes dainty(6)



tradotto da Cattia Salto
CORO
Se mi sposerai, ragazza
nella chiesa di Birnie Bouzle
finchè morte non ci separi
non te ne pentirai mai.
I
Indosserai da sposata una gonna (1) e un mantello di lana delle Highlands(2)
e dormirai su un letto di piume
felice e contenta.
CORO variazione
Sarai ben vestita, ragazza mentre andrai alla chiesa di Birnie Bouzle
con le scarpette (3) e tutto, ragazza
e sarai felice.
II
La tua dote (4) è misera, ma una rustica lana grigia(5) andrà bene per tutti i tuoi vestiti, e metterò da parte i soldi per vestirti meglio, non te ne pentirai mai.
III
Avremo dei bambini amabili,
delle belle ragazze e dei robusti ragazzi,
proprio come la loro madre;
e (poi) tuo padre ha acconsentito al matrimonio.
IV
Caccerò la lontra e il tasso,
il cervo, la lepre e il gallo,
prenderò le patelle dalla roccia
per prepararti pasti speciali.(6)
NOTE
1) Kirtle: è una gonna appena dopo il ginocchio munita di pettorina (un tempo la gonna era lunga)
2) Plaid: mantello di lana, indossato spesso dalle donne scozzesi come scialle nei caratteristici colori tartan
3) Brogues: scarpette tipiche delle Highland fatte con pelle non conciata e racchiuse con delle stringhe da annodare alle caviglie. Le scarpe un tempo venivano indossate dagli strati popolari solo nelle occasioni speciali, come appunto un matrimonio in chiesa.
4) Tocher: è la dote della sposa
5) Hoddin grey: panno di lana artigianale lasciato grezzo (non tinto)
6) alla novella sposa non mancheranno mai selvaggina e frutti di mare, principale compito del marito è portare a casa il mangiare per la famiglia
TRADUZIONE INGLESE
CHORUS 1
If you'll marry me, lassie,
at the church of Birnie Bouzle
Until the day you die, lassie,
you will never regret it
I
You will wear when you are married
a gown(1) and a highland wool mantle(2)
Sleep upon a featherbed,
so comfortable and contented
CHORUS 2
You'll be so well dressed, lassie,
going to church at Birnie Bouzle
Little shoes(3) and all, lassie,
but you'll be merry!
II
Your little dowry(4) is but small,
but homespun grey wool fabric(5) will do for all our clothes
I'll save my money to dress you well,
you will never regret it
III
We'll have lovely children and all,
some pretty girls and sturdy boys
Like their mother, one and all,
and your father, he's consented to the marriage
IV
I'll hunt the otter and the badger,
the deer, the rabbit, and the grouse
I'll pry the limpets from the rock
to make you special meals(6)
FONTI
http://ontanomagico.altervista.org/matrimonio-celtico.html
http://sangstories.webs.com/birniebouzle.htm
http://mudcat.org/thread.cfm?threadid=52829
http://thesession.org/tunes/3084 https://www.flutetunes.com/tunes.php?id=1379
http://mysongbook.de/msb/songs/b/birniebo.html http://www.fresnostate.edu/folklore/ballads/BrBrBirn.html
http://www.birnie.org/kirk.html http://digital.nls.uk/special-collections-of-printed-music/pageturner.cfm?id=94521180&mode=transcription