"Aileen Duinn" is a Scottish Gaelic song from the Hebrides: a widow/sweetheart lament for the sinking of a fishing boat, originally a waulking song in which she invokes her death to share the same seaweed bed with her lover, Alan.
According to the tradition on the island of Lewis Annie Campbell wrote the song in despair over the death of her sweetheart Alan Morrison, a ship captain who in the spring of 1788 left Stornoway to go to Scalpay where he was supposed to marry his Annie, but the ship ran into a storm and the entire crew was shipwrecked and drowned: she too will die a few months later, shocked by grief. His body was found on the beach, near the spot where the sea had returned the body of Ailein Duinn (black-haired Alan).
 The song became famous because inserted into the soundtrack of the film Rob Roy and masterfully interpreted by Karen Matheson (the singer of the Scottish group Capercaillie who appears in the role of a commoner and sings it near the fire)
Here is the soundtrack of the film Rob Roy: Ailein Duinn and Morag's Lament, (arranged by Capercaillie & Carter Burwelle) in which the second track is the opening verse followed by the chorus

FIRST VERSION
The text is reduced to a minimum, more evocative than explanatory of a tragic event that it was to be known to all the inhabitants of the island. The woman who sings is marked by immense pain, because her black-haired Alain is drowned at the bottom of the sea, and she wants to share his sleep in the abyss by a macabre blood covenant.
Capercaillie from To the Moon – 1995: Keren Matheson, the voice 'kissed by God' switches from the whisper to the cry, in the crashing waves blanding into bagpipes lament.


Meav, from Meav 2000 angelic voice, harp and flute

Annwn from Aeon – 2009 German group founded in 2006 of Folk Mystic; their interpretation is very intense even in the rarefaction of the arrangement, with the limpid and warm voice of Sabine Hornung, the melody carried by the harp, a few echoes of the flute and the lament of the violin: magnificent.

Trobar De Morte  the text reduced to only two verses and extrapolated from the context lends itself to be read as the love song of a mermaid in the surf of the sea (see also Mermaid's croon)

It is the most reproduced textual version with the most different musical styles, roughly after 2000, also as sound-track in many video games (for example Medieval II Total War)
english translation
How sorrowful I am
Early in the morning rising
Chorus
Ò hì, I would go (1) with thee
Hi\ ri bho\ ho\ ru bhi\,
Hi\ ri bho\ ho\ rionn o ho,
Brown-haired Alan, ò hì,
I would go with thee
If it is thy pillow the sand
If it is thy bed the seaweed
If it is the fish thy candles bright
If it is the seals thy watchmen(2)
I would drink(3), though all would abhor it
Of thy heart's blood after thy drowning
Scottish Gaelic
Gura mise tha fo éislean,
Moch `s a' mhadainn is mi `g eirigh,
Sèist
O\ hi\ shiu\bhlainn leat,
Hi\ ri bho\ ho\ ru bhi\,
Hi\ ri bho\ ho\ rionn o ho,
Ailein duinn, o\ hi\
shiu\bhlainn leat.
Ma `s e cluasag dhut a' ghainneamh,
Ma `s e leabaidh dhut an fheamainn,
Ma `s e `n t-iasg do choinnlean geala,
Ma `s e na ròin do luchd-faire,
Dh'olainn deoch ge boil   le cach e,
De dh'fhuil do choim `s tu `n   deidh dobhathadh,
NOTES
1) to die, to follow
2) for the inhabitants of the Hebrides Islands the seals are not simple animals, but magical creatures called selkie, which at night take the form of drowned men and women. Considered a sort of guardians of the Sea or gardeners of the sea bed every night or only on full moon nights, they would abandon their skins to reveal their human form, to sing and dance on the silver cliffs (here)
3) refers to an ancient Celtic ritual, consisting in drinking the blood of a friend as a sign of affection (the covenant of blood), a custom cited by Shakespeare (still practiced by all the friends of the heart who exchange blood with a shallow cut and joining the two cuts; it was also practiced for the handfasting in Scotland: once the handfasting was above all a pact of blood, in which the right wrist of the spouses was engraved with the tip of a dagger until the blood spurts, after which the two wrists were tied in close contact with each other with the "wedlock's band" (see more.)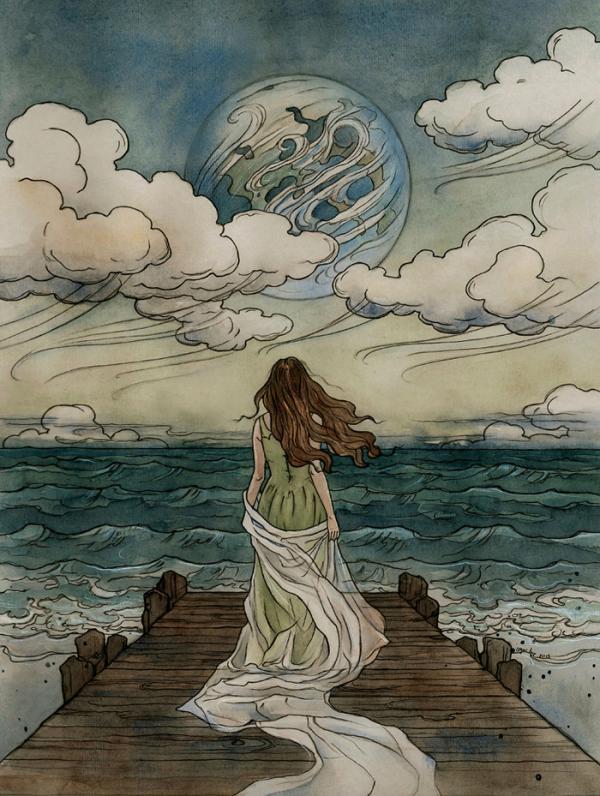 SECOND VERSION
Here is the version of Marjory Kennedy-Fraser (1857-1930) from "Songs of the Hebrides", see also Alexander Carmichael (1832-1912) in his "Carmina Gadelica".
Alison Pearce & Susan Drake from "A Harris love lament"  ♪
Quadriga Consort  from "Ships Ahoy !" 2011  ♪
(english translation Kennet Macleod)
I am the one under sorrow
in the early morn and I arising.
Chorus
Brown-haired Alan
Ò hì, I would go with thee
Hi\ ri bho\ ho\ ru bhi\,
Hi\ ri bho\ ho\ rionn o ho,
Brown-haired Alan,
 I would go with thee
'Tis not the death of the kine in May-month
but the wetness of thy winding-sheet./Though mine were a fold of cattle, sure, little my care for them today./Ailein duinn, calf of my heart,
art thou adrift on Erin's shore?
That not my choice of a stranger-land,
but a place where my cry would reach thee.
Ailein duinn, my spell and my laughter,/would, o King, that I were near thee/on what so bank or creek thou art stranded,
on what so beach the tide has left thee.
I would drink a drink, gainsay it who might,
but not of the glowing wine of Spain
The blood of the thy body, o love,
I would rather,/the blood that comes from thy throat-hollow.
O may God bedew thy soul
with what I got of thy sweet caresses,
with what I got of thy secret-speech
with what I got of thy honey-kisses.
My prayer to thee, o King of the Throne
that I go not in earth nor in linen
That I go not in hole-ground nor hidden-place
but in the tangle where lies my Allan
(scottish gaelic)
Gura mise tha fo éislean,
Moch `s a' mhadainn is mi `g eirigh
Sèist
Ailein duinn,
O\ hi\ shiu\bhlainn leat,
Hi\ ri bho\ ho\ ru bhi\,
Hi\ ri bho\ ho\ rionn o ho,
Ailein duinn,
o\ hi\ shiu\bhlainn leat
Cha'n e bàs a' chruidh 's a' chéitein
Ach a fhichead 's tha do leine.
Ged bu leam-sa buaile spréidhe
's ann an diugh bu bheag mo spéis dith.
Ailein duinn a laoigh mo chéille
an deach thu air tir an Eirinn?
Cha b'e sid mo rogha céin-thir
ach an t-àit' an ruigeadh m' éigh thu.
Ailein duinn mo ghis 's mo ghàire
's truagh, a Righ, nach mi bha làmh riut.
Ge b'e eilb no òb an tràigh thu
ge b'e tiurr am fàg an làn thu.
Dh' òlainn deoch ge b' oil le càch e,
cha b' ann a dh' fhion dearg na Spàinne.
Fuil do chuim, a ghraidh, a b' fhearr leam,
an fhuil tha nuas o lag do bhràghad.
O gu'n drùchdadh Dia air t' anam
na fhuair mi de d' bhrìodal tairis.
Na fhuair mi de d' chòmhradh falaich,
na fhuair mi de d' phògan meala.
M' achan-sa, a Righ na Cathrach,
gun mi dhol an ùir no 'n anart
an talamh-toll no 'n àite-falaich
ach 's an roc an deachaidh Ailean
Another translation in English with the title "Annie Campbell's Lament"
Estrange Waters from Songs of the Water, 2016
Chorus
Dark Alan my love,
oh I would follow you
Far beneath the great sea,
deep into the abyss
Dark Alan, oh I would follow you
I
Today my heart swells with sorrow
My lover's ship sank deep in the ocean
I would follow you..
II
I ache to think of your features
Your white limbs
and shirt ripped and torn asunder
I would follow you..

III
I wish I could be beside you
On whichever rock or shore where you're sleeping
I would follow you..
IV
Seaweed shall be as our blanket
And we'll lay our heads on soft beds made of sand
I would follow you..

THIRD VERSION
The most suggestive and dramatic version is that reported by Flora MacNeil who she has learned  from her mother. Born in 1928 on the Isle of Barra, she is a Scottish singer who owns hundreds of songs in Scottish Gaelic. "Traditional songs tended to run in families and I was fortunate that my mother and her family had a great love for the poetry and the music of the old songs. It was natural for them to sing, whatever they were doing at the time or whatever mood they were in. My aunt Mary, in particular, was always ready, at any time I called on her, to drop whatever she was doing, to discuss a song with me, and perhaps, in this way, long forgotten verses would be recollected. So I learned a great many songs at an early age without any conscious effort. As is to be expected on a small island, so many songs deal with the sea, but, of course, many of them may not originally be Barra songs"
A different story from Flora MacNeil's family: the woman is married to Alain MacLeann who dies in the shipwreck with all the other men of her family: her father and brothers; the woman turns to the seagull that flies high over the sea and sees everything, as a witness of the misfortune; the last verse traces poetic images of a funeral of the sea, with the bed of seaweed, the stars like candles, the murmur of the waves for the music and the seals as guardians.
Flora MacNeil from  a historical record of 1951.


English translation
O na hi hoireann o ho
Hi na hi i ri u hu o
Endless grief the price it cost me
'Twas neither sheep or cattle
But the load the ship took with her
My father and my three brothers
As if this wasn't all my burden
The one to whom I gave my hand
MacLean of the fair skin
Who took me from the church on Tuesday(1)
"Little seagull, seagull of the ocean
Where did you leave the fair men?"
"I left them in the island of the sea
Back to back, no longer breathing"

Scottish Gaelic
Sèist:
O na hi hoireann o ho
Hi na hi i ri u hu o
S' goirt 's gur daor a phaigh mi mal dhut
Cha chrodh laoigh 's cha chaoraich bhana
Ach an luchd a thaom am bata
Bha m'athair oirre 's mo thriuir bhraithrean
Chan e sin gu leir a chraidh mi
Ach am fear a ghlac air laimh mi
Leathanach a' bhroillich bhainghil
A thug o 'n chlachan Di-mairt mi
Fhaoileag bheag thu, fhaoileag mhar' thu
Cait a d'fhag thu na fir gheala
Dh'fhag mi iad 'san eilean mhara
Cul ri cul is iad gun anail
NOTES
(1) Tuesday is still the day on which traditionally marriages are celebrated on the Island of Barra

FOURTH VERSION
Still a version set just like a waulking song and yet a different text, this time the ship is a whaler and Allen is shipwrecked near the Isle of Man.
Mac-Talla, from Gaol Is Ceol 1994, only the female voices and the notes of a harp, but what immediacy …
English translation
I am tormented/I have no thought for merriment tonight
Brown-haired Allen o hi, I would go with thee.
I have no thought for merriment tonight/But for the sound of the elements and the strength of the gales
Brown-haired Allen o hi,
I would go with thee.
CHORUS
Hi riri riri ri hu o, horan o o, o hi le bho
Duinn o hi, I would go with thee
But for the sound of the elements and the strength of the gales
Which would drive the men from the harbor
Brown-haired Allen, my darling sweetheart
I heard you had gone across the sea
On the slender, black boat of oak
And that you have gone ashore on the Isle of Man
That was not the harbor I would have chosen
Brown-haired Allen, darling of my heart
I was young when I fell in love with you
Tonight my tale is wretched
It's not a tale of the death of cattle in the bog
But of the wetness of your shirt
And of how you are being torn by whales
Brown-haired Allen, my dear beloved
I heard you had been drowned
Alas, oh God, that I was not beside you
Whatever tide-mark the flood will leave you
I would take a drink, in spite of everyone
Of your heart's blood,
after you had been drowned
Scottish Gaelic
S gura mise th'air mo sgaradh
Chan eil sugradh nochd air m'aire
Ailein Duinn o hi shiubhlainn leat
Chaneil sugradh nochd air m'air'
Ach fuaim nan siantan 's miad na gaillinn
Ailein Duinn o hi shiubhlainn leat
Hi riri riri ri hu o, horan o o, o hi le bho
Ailein Duinn o hi shiubhlainn leat~Ailein.
Ach fuaim nan siantan 's miad na gaillinn
Dh'fhuadaicheadh na fir bho'n chaladh
Ailein Duinn o hi shiubhlainn leat
Ailein Duinn a luaidh nan leannan
Chuala mi gun deach thu thairis
Ailein Duinn o hi shiubhlainn leat
Chuala mi gun deach thu thairis
Air a' bhata chaol dhubh dharaich
Ailein Duinn o hi shiubhlainn leat
'S gun deach thu air tir am Manainn
Cha b'e siod mo rogha caladh
Ailein Duinn o hi shiubhlainn leat
Ailein Duinn a luaidh mo cheile
Gura h-og a thug mi speis dhut
Ailein Duinn o hi shiubhlainn leat
'S ann a nochd as truagh mo sgeula
'S cha n-e bas a' chruidh 'san fheithe
Ailein Duinn o hi shiubhlainn leat
Ach cho fliuch 's a tha do leine
Muca mara bhith 'gad reubach
Ailein Duinn o hi shiubhlainn leat
Ailein Duinn a chiall 's a naire
Chuala mi gun deach do bhathadh
Ailein Duinn o hi shiubhlainn leat
'S truagh a Righ nach mi bha laimh riut
Ge be tiurr an dh'fhag an lan thu
Ailein Duinn o hi shiubhlainn leat
Dh'olainn deoch, ge b'oil le cach e
A dh'fhuil do chuim 's tu 'n deidh do bhathadh
Ailein Duinn o hi shiubhlainn leat
LINK
http://www.celticlyricscorner.net/murray/ailean.htm
http://www.celticlyricscorner.net/capercaillie/ailein.htm
http://www.mudcat.org/thread.cfm?threadid=8239
http://folktrax-archive.org/menus/cassprogs/001scotsgaelic.htm