Leggi in italiano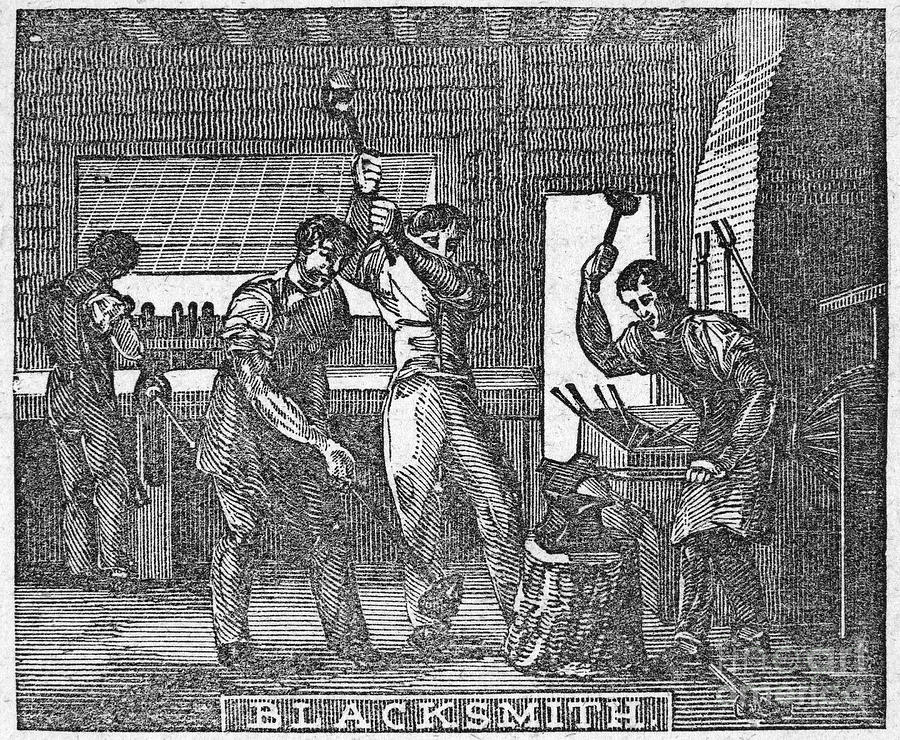 In folk songs the blacksmith is always considered a synonym of virility, a very gifted lover with a portentose force.
"A blacksmith courted me" also simply titled "The Blacksmith", comes from the English folk tradition and is reported in many collections of the early twentieth century; a piece that is not properly found in Irish tradition but has been interpreted by various Celtic artists. It was Ralph Vaughan Williams who picked it up in the field in 1909 from Mrs. Ellen Powell of Westhope near Weobley, Herefordshire.
The Anvil Priest is a figure particularly widespread in Scotland, he declare the couple husband and wife with a hammer blow on the anvil !
http://ontanomagico.altervista.org/matrimonio-celtico-storia.html
THE BLACKSMITH
The blacksmith leaves his love in the village (to seek his fortune abroad), writes a love letter (but false) and returns married to another.
Planxty live 1979:  version and arrangement become "standard", the instrumental part written by Andy Irvine has then further evolved into a jig that has taken on life in dance sessions.
Eddi Reader  from"Mirmama" 1991 (world music)
Loreena McKennitt from Elemental 1985
Caprice in Kywitt! Kywitt! 2008
Lisa Knapp from "Wild and Undaunted" 2007
David Gibb & Elly Lucas from "Old Chairs to Mend" 2012
Sheila Chandra ( I, III, IV, V, I)
From" The Penguin Book Of English Folk Songs" Sung by Mrs. Powell, nr. Weobley, Herefordshire. [Collected by] Ralph Vaughan Williams 1909.
I
A blacksmith courted me,
nine months and better
he fairly won my heart,
wrote me a letter
with his hammer in his hand (1),
he looked quite clever
and if I was with my love,
I'd live forever
II
But where is my love gone
with his cheeks like roses?
and his good black billycock on
decked round with primroses?
I'm afraid the shining sun
will shine and burn his beauty
and if I was with my love,
I'd do my duty
III
Strange news is come to town,
strange news is carried
strange news flies up and down
that my love is married
I wish them both much joy
though they can't hear me
and may God reward him well
for the slighting of me(2) 
IV(3)
"Don't you remember when
you lay beside me,
and you said you'd marry me
and not deny me"
"If I said I'd marry you,
it was only for to try you
so bring your witness love
and I'll not deny you"
V
"No, witness have I none
save God almighty
and may he reward you well
for the slighting of me"
Her lips grew pale and wan,
it made her poor heart tremble
to think she loved a one
and he proved deceitful.
FOODNOTES
1) in the letter was to be included a photograph of him at work
2) obviously these are curses
3) the blacksmith continues to deny the evidence!
INSTRUMENTAL VERSION
The song is also played in instrumental version as a jig probably developing the version of Planxty.
"Merry Blacksmith" is instead a reel
LINK
http://mainlynorfolk.info/shirley.collins/songs/theblacksmith.htm
lhttp://www.joe-offer.com/folkinfo/songs/2.html
http://www.joe-offer.com/folkinfo/forum/39.html
http://www.8notes.com/scores/3547.asp
http://www.pteratunes.org.uk/Music/Music/Lyrics/Blacksmith.htm
lhttp://www.pteratunes.org.uk/Music/Music/Lyrics/Blacksmith2.html http://thesession.org/tunes/1526
http://mudcat.org/thread.cfm?threadid=10786 http://www.china2galway.com/song%20words%20Blacksmith.htm