"The Lass of Glanshee" or "The maid of Glashee" or "The Rose of Glanshee" is a Scottish ballad penned by Andrew Sharpe (according to G Malcolm Laws -in American Balladry From Bristish Broadsides, 1957) in the late 1700s 'Nineteenth century, on the tune "The Road and the Miles to Dundee"
Curious character, Andrew Sharpe, cobbler from Perth (Scotland), but also flute player, painter, composer and singer of love songs, yet this song is best known in its version from Celtic Canada, as it was collected by Helen Creighton during her excursions in New Brunswick from 1954 to 1960 and transcribed in "Folksongs from Southern New Brunswick" (1971). The witness Angelo Dornan, lived in Elgin, NB (Eastern Canada) at the time of registration. Most of his repertoire comes from Northern Ireland, the place of origin of his parents.
The ballad is a "pastoral" songs, a very popular song in England, Ireland and Scotland in the seventeenth and eighteenth centuries: this literary genre is characterized by the love contrast between a shepherdess and a suitor (a shepherd boy, or as in this case , a gentleman of passage) often with an erotic or spicy allusive background. The textual versions are quite similar and describe the same story: while a rustic but very pretty shepherdess is herding her flock, a young man spy and courting her; the song is then developed on the model of a pastoral contrast, with him who trying to seduce her and she escapes, knowing full well that she would never become his bride, because of their social difference. In reality the young maidens who wandered through the countryside and the woods were easy prey (more or less consensual) of the "hunters" men and often these ballads ended with the announcement of unfortunate pregnancies.(see more)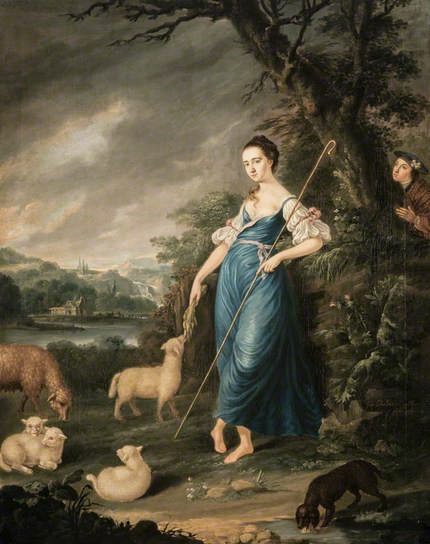 HAPPY END
"The Lass of Glanshee" has a happy ending as in beautiful fairy tales they get married and live happily for ever!
Altan from Horse With A Heart 1989: with their balanced repertoire based on the traditional music of Donegal and the Scottish influences the Altan spread throughout the world ballads, nursery rhymes and songs in Gaelic. Their version of The Lass of Glanshee, performed on a song originally from Scotland, has become a standard for Irish music groups.
Anuna (I, II,IV,V, VI)

Cara Dillon live

Greenoch interesting version of the Italian duo Cecilia Gonnelli and Roger Taradel

THE LASS OF GLENSHEE
I
One morning in springtime
as day was a-dawning
Bright Phoebus had risen
from over the lea
I spied a fair maiden
as homeward she wandered
From herding her flocks
on the hills of Glenshee
II
I stood in amazement,
says I, "Pretty fair maid
If you will come down
to St. John's Town (1) with me
There's ne'er been a lady
set foot in my castle (2)
There's ne'er been a lady
dressed grander than thee
III
A coach and six horses
to go at your bidding
And all men that speak
shall say "ma'am unto thee
Fine servants to serve you
and go at your bidding"
I'll make you my bride,
my sweet lass of Glenshee"

IV
"Oh what do I care for
your castles and coaches?
And what do I care
for your gay grandeury (3)?
I'd rather be home at my cot,
at my spinning
Or herding my flocks
on the hills of Glenshee"
V
"Away with such nonsense
and get up beside me
E'er summer comes on
my sweet bride you will be
And then in my arms
I will gently caress thee"
'Twas then she consented,
I took her with me
VI
Seven years have rolled on
since we were united
There's many's a change,
but there's no change on me
And my love, she's as fair
as that morn on the mountain
When I plucked me a wild rose (4)
on the hills of Glenshee
NOTES
1) the city of Perth has an ancient church ((St John's Kirk) and formerly took the name of Saint John's Toun or St Johnstone.
2) Perthshire is dotted with castles scattered across the beautiful countryside but also close to Perth: Balhousie Castle, Huntingtower Castle, Scone Palace, Elcho Castle, Fingask Castle, Strathallan Castle, Blair Castle (more)
3) the verse follows the popular Raggle Taggle Gypsie
4) they are not limited to holding hands, and the rose is not just a flower

SCOTTISH/CANADIAN VERSION: THE HILLS OF GLENSHEE
The Glenshee Hills are located in the county of Pert, the 'Fairy hill' in the center of Scotland, a popular winter ski resort and summer hiking destination.
With the title "The Hills of Glenshee" is the variant spread to Newfoundland.
Harry Hibbs a more country version, from best-known icon for traditional Newfoundland music.
THE HILLS OF GLENSHEE
I
One fine summer's mornin'
as I went out walkin',
Just as the grey dawn
flew over the sea,
I happened to spy
a fair haired young damsel,
Attending her flock
by the hills of Glenshee.
II
I said," pretty fair one,
will you be my dear one,
For I'll take you over,
my bride for to be;
And this very night
in my arms  I will hold you,
While you tend your flock
on the hills of Glenshee."
III
"Oh no, my dear sir,
you'll not take me over,
None of your footmen
to wait upon me;
I would rather stay home
in my own homespun clothing,
And attend to my flock
on the hills of Glenshee."

IV
For twenty long years
we've both been together,
Seasons may change
but there's no change in me;
And if God lets me live
and I have my right senses,
I'll never prove false
to the girl on Glenshee.
V
She's Mary, my Mary,
my own lovin' darlin',
She's as pure as the perfume
blows over the sea;
And her cheeks are as pale
as the white rose of summer,
That spreads out its leaves
on the hills of Glenshee.
VI
She's Mary, my Mary,
my own lovin' darlin',
I do love her so
and I know she loves me;
And I'll never prove false
to my girl where I met her,
No I'll never prove false
to the girl on Glenshee.
No I'll never prove false
to the girl on Glenshee.
see also
LINK
https://www.mun.ca/folklore/leach/songs/NFLD1/2-10.htm
https://soundcloud.com/catherinecrowe/01-the-rose-of-glenshee?in=catherinecrowe/sets/field-recordings-of-angelo
http://digicoll.library.wisc.edu/WiscFolkSong/data/docs/WiscFolkSong/400/000333.pdf
https://mudcat.org/thread.cfm?threadid=50613
http://folksongsatlanticcanada.blogspot.it/2012/04/new-brunswick-folk-songs.html
https://journals.lib.unb.ca/index.php/JNBS/article/view/20084/23145
http://www.wtv-zone.com/phyrst/audio/nfld/26/hills.htm