Carolina Oliphant, (1766-1845) meglio conosciuta con il nome da sposata di Lady Nairne, al pari del più illustre Robert Burns,
si dilettava a scrivere poesie sulle melodie della tradizione; siccome per una Lady (baronessa per giunta) era ritenuta sconveniente una tale attività, solo dopo la sua morte venne pubblicato un libretto con tutti i suoi testi ("Lays of Strathearn" 1846). Così anche il suo diario fu pubblicato nel volume "Life and Song of the Baroness Nairne" (1869) -in formato digitale qui.
FILO-GIACOBITA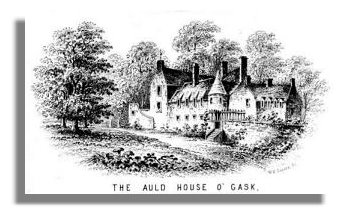 Di famiglia giacobita Carolina Oliphant (il padre le diede nome di Carolina in omaggio al Principe Charles Edward Stuart ) nacque a Gask House vicino a Dunning nel Perthshire e da giovane doveva essere una vera bellezza se veniva chiamata  "the Flower of Strathearn" e " The White Rose of Gask". Per alleviare lo spirito di una famiglia che aveva dovuto sopportare anni di esilio dopo Culloden si mise a scrivere  appassionate canzoni giacobite adattandole a vecchie melodie tradizionali. (continua)
BARONESSA, MOGLIE E MADRE
Si sposò in tarda età (per gli standard del tempo) nel 1806 con un cugino di secondo grado,  il maggiore William Murray Nairne e andò a vivere ad Edimburgo. Anche da sposata continuò a coltivare la sua passione per la musica tradizionale scozzese e preferì pubblicare i suoi testi in forma anonima o con lo pseudonimo di Signora Bogan di Bogan ("The Scottish Minstrel", 1821-24).

Il titolo di Baronessa arrivò nel 1824 quando la famiglia venne reintegrata nei suoi possedimenti. Quasi settantenne alla morte del marito (1830) si trasferì prima in Irlanda e poi si mise a viaggiare per il continente con l'unico figlio (di salute cagionevole) per ritornare all'età di 79 anni nella sua vecchia casa di Gask dove morì il 26 ottobre del 1845.
POETESSA E FOLKLORISTA
Collezionista di vecchi brani della tradizione popolare, Carolina Oliphant scrisse o riscrisse circa un centinaio di canzoni contribuendo a preservare molte melodie scozzesi, e proprio il suo rimanere in ombra seppur dotata di genio lirico al pari dell'invece osannato Robert Burns, fece si che le sue canzoni fossero considerate di autore anonimo oppure attribuite al Bardo di Scozia.
In eighteenth-century Scotland, popular art-song was the dominant literary form and it enjoyed a rich interrelationship with the surrounding oral culture. But performance of much of the traditional repertoire was becoming problematic in polite society because of its explicitly sexual content and the decline in the social segregation of men and women. Carolina Oliphant followed Robert Burns's work with intense interest, particularly his gift for fashioning new words to new tunes, and his editing of existing material beginning to be considered unsuitable for mixed assemblies. One of her earliest pieces was a bowdlerized version of 'The Pleughman' (Randall, 58–9; Rogers, 179–80), for her brother to sing to his tenants at their annual dinner. Many of her songs were set to classic traditional tunes in this way, including 'The Land o' the Leal' (Rogers, 163–4) which was written for her friend Mary Erskine (Mrs Campbell Colquhoun), on the death of her first child in 1797. Sometimes only the tune was used and new lyrics were written for it; sometimes the verbal text was a creative collage of existing versions. Contemporary song-making was often a collective process, making individual attribution difficult. Since anonymity also was the rule (strengthened in Carolina's case by the urge to be taken seriously, which she felt might be compromised if her songs were known to be by a woman), the exact extent of her work and its links with the rest of the tradition have never been clearly established. There is no reliable critical edition. (New Oxford Dictionary tratto da qui)
ARCHIVIO
CHARLIE IS MY DARLING
LAIRD O' COCKPEN
LAND OF THE LEAL
WHA'LL BE KING BUT CHARLIE
WILL YE NO COME BACK AGAIN
FONTI
http://perthshire.blogspot.it/2009/01/house-of-gask-perthshire-scotland.html
http://www.clanoliphant.com/carolina
http://www.electricscotland.com/history/women/wh48.htm
http://www.musicanet.org/robokopp/bio/nairnela.html
http://www.rampantscotland.com/famous/blfamnairne.htm
https://scottishwomenpoets.wordpress.com/poets/nineteenth-century-poets/carolina-oliphant-lady-nairne-1766-1845-part-two/
http://iainthepict.blogspot.it/2011/08/lady-carolina-oliphant-baroness-nairne.html