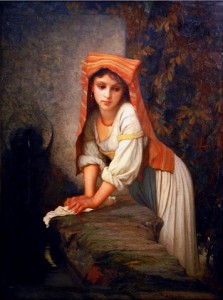 Le versioni in scozzese sono molto simili alla versione in gaelico tramandata nelle isole Ebridi (vedi prima parte). I titoli cambiano in "Braes o' Strathblane" o "Banks of Strathdon" ma la storia resta sostanzialmente la stessa, anzi viene sviluppata meglio: una bella fanciulla intenta a lavare i panni nel fiume, respinge l'offerta di matrimonio e il ragazzo si sente offeso dalle parole con cui lei ha spiegato il suo rifiuto; troppo tardi la fanciulla riconsidera l'offerta matrimoniale per acconsentire, lui ormai non la vuole più!
ASCOLTA Ossian in "St. Kilda Wedding" 1987. Nelle note di copertina Ossian scrive: "The words here were first published in Mavers Collection (1866) and are recorded as those heard in Kintyre. The song has an unusually unhappy ending for this 'boy meets girl in the month of May' type".


I
As I was a-walking one morning in May
Down by yon green meadows I careless did stray;
I spied a young lass, she was standing alane
A-bleaching her claes on the braes o' Strathblane.
II
I steppèd up tae her as I seemed tae pass:
"Ye're bleaching yer claes here, my bonny young lass;
It's twelve months and mair since I've had in my mind
And its a' tae be married if you are inclined."
III
"Tae marry, tae marry, I'm sure I'm too young
And all ye young lads hae a flattering tongue;
My faither and mother displeasèd would be
Gin I were tae wed wi' a rover like thee."
IV
"But lassie, oh lassie, how can ye say so
For ye ken all the pain which I undergo;
Consent, my dear lassie, tae be a' my ain
And happy we'll live here on the braes o' Strathblane."
V
But, "Tempt me nae longer – this lassie did say-
For ye'll dae yersel' better to gang on your way;
Far better for me tae bide here alane
Than wi' you spend my days here on the braes o' Strathblane".
VI
So I turnèd around then wi' a tear in my ee
Saying, "I wish ye a guid man, whaure'er he may be;
I wish ye a guid man as we're here alane
And I'll court wi' another on the braes o' Strathblane."
VII
"But wait", cried this lassie, "for ye've fair won my hairt;
Here is my hand, and we never shall part.
We never shall part till the day that we dee
And may a' good attend us whaure'er we may be."
VIII
"But noo ye've consented, oh it's fair out o' time;
Ilka word that you've spoken, I've changèd my mind
For the clouds they look heavy, I'm afeared we'll have rain."
And we shook hands and parted on the Braes o' Strathblane.

TRADUZIONE ITALIANO DI CATTIA SALTO
I
Mentre camminavo una mattino di Maggio
e tra i campi verdi distrattamente vagavo,
vidi una fanciulla che stava da sola
a sbiancare i suoi vestiti sulle rive dello Strathblane.
II
Mi sono fermato presso di lei mentre stavo passando:
"Stai sbiancando i tuoi abiti mia bella giovane ragazza?
Sono 12 mesi e più che avrei intenzione
di sposarti, se anche tu lo desideri!"
III
"Sposare? Di certo sono troppo giovane per sposarmi e voi tutti giovani ragazzi avete una lingua adulatrice, mio padre e mia madre non sarebbero contenti se fossi sposata con un vagabondo come te."
IV
"Oh ragazza, come fai a dire così
e a farmi passare tanta pena,
acconsenti mia cara ragazza di unirti con me
e vivremo felici qui sulle rive dello Strathblane"
V
"Non tentarmi più a lungo -disse la ragazza –
sarà meglio che tu vada per la tua strada
e meglio per me aspettare qui da sola
che trascorrere con te i miei giorni qui sulle rive dello Strathblane"
VI
Così mi sono voltato con una lacrima negli occhi dicendo "Ti auguro un brav'uomo ovunque egli sia,
ti auguro un brav'uomo mentre stai qui da sola,
e io corteggerò un'altra sulle rive dello Strathblane" VII
"Ma aspetta – gridò la ragazza – perchè hai vinto il mio cuore,
ecco la mia mano e non ci separeremo più
fino al giorno della nostra morte
e possa la sorte favorirci ovunque saremo"
VIII
"Ma ora che hai acconsentito è troppo tardi,
a causa di ogni parola che hai detto ho cambiato opinione, che le nuvole sembrano pesanti e temo che verrà a piovere"
E ci stringemmo la mano e separammo sulle rive dello Strathblane.
LA VERSIONE IRLANDESE: THE BANKS OF STRATHDON
Questa versione aggiunge una strofa rispetto alla precedente, una sorta di commento o frase conclusiva tipica nella struttura di una ballata.
Così conclude: "Venite voi tutte giovanette e accettate questo consiglio da me: non offendete mai un giovane uomo per la sua povertà perchè nell'offendere questo giovane temo che non ne troverete altri e vivrete e morirete nubili sulle rive di Strathdon"
ASCOLTA Cathal McConnell
As I went out walking one morning in May
Down by yon green meadow I chanced for to stray
I met with a fair maid she was standing along
She was bleaching her claes on the Banks of Strathdon
So I said unto to her as I seemed to pass
"You're bleaching your claes here my bonnie wee lass
Tis twelve months and better since I've had a mind
For to ask you to marry me if you're sae inclined."
"To marry you, to marry you O I'm far too young
And besides all you young men have a flattering tongue
My father and mother would both angry be
If I were to marry a young man like thee."
"O hold your tongue lassie and do not say no
You can cure all the pains love that I undergo
But I'll bid you a good man though I gang alone
So I'll bid you good morning on the Banks of Strathdon."
"Abide my dear laddie, you've fair won my heart
Here is my hand and we never shall part
We never shall part till the day we die
And may all good attend us wherever we be."
"O it's now you've consented though now out of time
The cruel words you've spoken have altered my mind
Dark clouds are a-gathering and rain will be on."
So they shook hands and parted on the Banks of Strathdon.
"So come all you fair maids and a warning take by me
Never slight your young man for his poverty
For in slighting this young man I'm afraid I'll get none
And live and die unmarried on the Banks of Strathdon."
"Hugh Shields' Shamrock, Rose and Thistle, Belfast: Blackstaff Press, 1981 has a version of 'The Braes of Strathblane' taken down from Annie Sweeny of Magilligan, Co Derry (N Ireland). According to the notes, the song has also been found in America under the titles of 'The beach of Strablane', 'The bleaches so green'[not as odd a name as may appear; linens were treated on a 'bleaching green'] and even 'The Chippewa Girl' Shields also quotes from Robert Ford, ed Vagabond Songs and ballads of Scotland(1899)Paisley & London, 1904: 'Doggerel' as familiar in the Blane valley, north of Glasgow, as 'the lines of the 23rd psalm'. Two American versions can be found in GM Laws' Native American Balladry (1950) revised, Philadelphia 1957. He calls it 'The Chippewa Girl'. Maud Karpeles collected 'The bleaches so green' in Newfoundland." (da qui)
ASCOLTA John Reilly in "The Bonny Green Tree Songs of an Irish Traveller" 1977 e ristampato nel  2014

I
For the old town of Tralee(1)
one evening in June
Through the woodbine, mound daisies
an' meadows in bloom
I espied a wee lassie
at the end of a lane
An' she bleaching her linen
by the braes of Strawblane
II
For I stepped up unto her
an' I made my address:
"Are you bleachin' your linen
my charnin' wee lass,
For twelve months an' better
since I had deep in my mind
Oh, that we would get married,
love, if you were inclined."
III
"Well, to marry, to marry,
kind sir, I'm too young
An' besides all ye young men
has a platterin' fine tongue
Sayin; my Daddy an' Mammy,
oh quite angry would be
That's if I would go
marry a rover like thee."
IV
"You consent my wee lassie
and do not say no
Sayin' you don't know the pain love,
oh that I undergo
for the clouds they look weary,
I'm afraid we'll have rain
Oh, but I'll go my way, love,
round the braes of Strawblane."
V
"Consented, consented it is all of the time
Since the last words you have spoken
I have now changed my mind
The clouds they look weary
I'm afraid we'll have rain
Oh but I'll court some other
round the braes of Strawblane."

TRADUZIONE ITALIANO DI CATTIA SALTO
I
Per la vecchia città di Tralee
una sera di Giugno
con il caprifoglio un mucchio di margherite
fiorivano nei prati,
vidi una ragazzina
alla fine del viale
e lei candeggiava la sua biancheria
sulle rive dello Strawblane.
II
Sicchè mi fermai davanti a lei
e le feci le presentazioni
"Stai candeggiando la biancheria ,
mia affascinante fanciulla?
Sono più di 12 mesi
che ho la convinzione
di chiedervi in sposa,
se anche tu lo vuoi"
IV
" Per sposarmi,
gentile signore, sono troppo giovane
e inoltre tutti voi giovani ragazzi
avete una parlantina sciolta,
mio padre e mia madre
non sarebbero contenti
se andassi
a sposare un vagabondo come voi."
IV
"Acconsenti ragazzina
e non dire no,
tu che non conosci le pene d'amore
come quelle che patisco,
perchè le nuvole sembrano cariche
e temo che verrà a piovere,
ma allora andrò per la mia strada, amore,
per le rive dello Strawblane"
V
"Acconsenti ma è troppo tardi
da quando le tue ultime parole che hai detto
mi hanno fatto cambiare opinione,
le nuvole sembrano cariche
e temo che ci sarà pioggia
ma io corteggerò qualcun'altra
sulle rive dello Strawblane"

NOTE
1) Tralee si trova nella contea di Jerry (Irlanda Sud-Ovest)
FONTI
http://mysongbook.de/msb/songs/b/braesost.html http://www.mudcat.org/thread.cfm?threadid=17312 http://mudcat.org/thread.cfm?threadid=34604
http://digital.nls.uk/broadsides/broadside.cfm/id/20794
http://www.gla.ac.uk/0t4/~dumfries/files/layer2/ glasgow_broadside_ballads/braes_o_strathdon.htm http://www.tobarandualchais.co.uk/fullrecord/ 55077/1;jsessionid=FB3D71DD4296E904CDD6E1C77C93FEBA http://www.celticlyricscorner.net/capercaillie/aodann.htm http://www.pantomimemusic.com/strawblane_sample.pdf