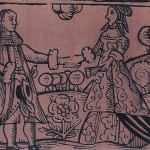 Nella versione più antica della ballata nota come The Baffled Knight, un giovane e inesperto cavaliere incontra una fanciulla per i campi e le chiede di fare sesso, ma la fanciulla si prende gioco della sua inesperienza amorosa e lo raggira con uno stratagemma. Attraversando i secoli e la trasmissione orale il contesto della ballata diventa più prosaico e la fanciulla non sta più giocando con il fuoco, ma è tutta intenta a preservare la propria virtù da uno stupro.
VERSIONE D: BLOW AWAY THE MORNING DEW
Child ballad #112
Variante The Baffled Knight
La ballata è riportata in moltissime versioni testuali sia nelle raccolte settecentesche che nei Broadsides, oltrechè trasmessa oralmente in Gran Bretagna e America con i titoli di " Blow (Clear)(Stroll) Away The Morning Dew"; il protagonista maschile di volta in volta è un gentleman, o un pastorello / contadinello. La novità rispetto alle versioni A e B già viste (qui e qui) è il ritornello che, declinato in un paio di varianti, richiama un allusivo venticello mattutino che spazza via la rugiada della notte.
La ballata cortese d'epoca rinascimentale del "Cavaliere Beffato" viene ora trasposta in un ambito popolare, allacciandolo ad un antico rituale celtico benaugurale e salutistico, ancora praticato dai contadini, quello del bagno nella rugiada di Beltane. (vedi).
LA VERSIONE RACCOLTA DA CECIL SHARP
Così scrive Geoff Woolfe "
Cecil Sharp noted several versions of this song in his travels around Somerset in the early 1900s, and in 1916 published what became the 'standard' version later sung by many schoolchildren and choirs. Vaughan Williams used the tune for his folk song suite for military band in the 1920s. The text in Mrs Nation*'s version is similar to most others; its meaning may have been lost on collectors and schoolchildren in more innocent times
" (tratto da
qui
) * Elisabeth Nation da Bathpool, Somerset.
NB
Nella prima stesura della trattazione erano disponibili per l'ascolto molti video su YouTube, che poi sono stati cancellati o non più disponibili, pertanto per seguite il testo e ascoltare le melodie ho inserito il rimando a Spotify, l'ascolto nella forma base è gratuito basta iscriversi alla piattaforma e scaricare l'app.

ASCOLTA Oscar Brand & Joni Mitchell 1965: una ancora sconosciuta Joni Anderson, ma già rifulgente. Il video fa parte della serie televisiva "Let's Sing Out" condotta da Oscar Brand  che fu registrata in vari campus universitari del Canada e mandata in onda dalla televisione canadese dal 1963 al 1966. La versione testuale della ballata è stata un po' ritoccata e ridotta nella forma di canzoncina umoristica.

I
There was a young farmer(1)
Kept sheep all on the hill;
And he walk'd out one May morning(2)
To see what he could kill.(3)
Chorus
And sing blow away the morning dew
The dew, and the dew.
Blow away the morning dew,
How sweet the birds they sing(4)
II
He looked high, he looked low,
He cast an under look;
And there he saw a pretty maid
that swimming in a brook.
VI
"If you take to my father's castle(6)
Which is walled all around,
And, you may have a kiss from me
And twenty thousand pound"(7).
VII
When they got to her father's gate,
quicly she ride in:
There is a fool without
And here's a maid within.
VIII
There is a flower in the garden,
they call it Marigold(8):
And if you do not
when you're young(9),
then you may not when you're olde.
traduzione italiano di Cattia Salto
I
C'era un contadinello (1)
che governava le pecore sulla collina
e uscì un mattin di maggio(2)
per vedere di cacciare qualcosa (3).
RITORNELLO
Spazza via la rugiada del mattino
la rugiada, la rugiada
Spazza via la rugiada del mattino,
e che soavi uccelli canterini! (4)
II
Guardò in su e guardò in giù
e gettò uno sguardo di lato;
e vide una graziosa fanciulla
che nuotava nel torrente. (5)
VI
"Se mi porterai al castello avito (6)
tutto cinto dalle mura
potrai avere un mio bacio
e 20.000 sterline(7)"
VII
Quando arrivarono al portone
svelta lei corse dentro
"C'è uno stupido all'esterno
e una vergine all'interno".
VIII
C'è un fiore nel giardino
che chiamano calendula(8),
se non la cogli
quando sei giovane(9),
poi non potrai quando sarai vecchio!
NOTE
1) oppure "shepherd boy" in  Phyllis Marshall (che raccolse 26 canzoni popolari tra il 1916 e il 1917 da Bathpool e West Monkton, Somerset). Nel Somerset Scrapbook, Bob e Jackie Patten scrivono: "in 1916 and 1917 Miss Phyllis Marshall was collecting songs around West Monkton. Although only a small collection, her note books contain some choice material. This collection only came to light in the 1970s when it was found in a second-hand book shop and bought for a few pence". Sia la versione di Oscar Brand che di Phyllis Marshall sono riconducibili a quella"standard" pubblicata da Cecil Sharp nel 1916.

2) il verso è significativo e chiarisce il ritornello: non si tratta di un una mattina qualunque di maggio, ma di calendimaggio nella notte  propizia per il bagno nella rugiada: è il sole di Beltane a dare maggiore potere all'acqua (vedi).
3) qui il giovanotto va a caccia per necessità, ma inizialmente era un gentiluomo a caccia per diletto: è evidente l'allusione alla donna come preda
4) la strofa è stata variata per renderla più "ammiccante", Il ritornello riportato da Cecil Sharp dice:
And sing blow away the morning dew,
The dew, and the dew.
Blow away the morning dew,
How sweet the winds do blow.
5) in questa versione mancano un paio di strofe così riportate da Phyllis Marshall
"The dew's all on the grass, it'll spoil my wedding gown
Which cost my father out of his purse as many pounds as crowns"
"I'll take off my riding coat and wrap it round and round
There is a wind come from the west which soon will blow it down"
La donna cerca di dissuadere l'uomo con un pretesto (e chi canta non sembra avere perplessità sull'incongruenza dei due appena usciti da torrente in cui nuotavano presumibilmente nudi), quello del vestito che si stropiccia (è qui è addirittura un abito da sposa, una Sposa di Maggio?) è un punto fermo della storia che già nelle sue versioni seicentesche ammoniva i giovanotti inesperti (in amore) "Spare not for her gay clothing, But lay her body flat on the ground"
6) più comunemente è un gate, presumo che Oscar Brand abbia utilizzato la parola "castello" per avvalorare l'origine "antica" della ballata, (facendo un po' fatica a farla stare nella metrica)
7) La fanciulla millanta una ricca dote che potrebbe allettare l'uomo a non passare subito allo stupro, ma a puntare ad ottenere il consenso dei genitori (è sotto inteso che potrà avere i soldi solo in cambio del matrimonio) la strofa raccolta da Phyllis Marshall, che si potrebbe equivocare se non inserita nel contesto, dice "And you shall see what I can do for fifty thousand pounds"

8) marigold= con lo stesso termine si indica sia la calendula che il tagete. Io propendo per la calendula che già nella seconda metà del 1600 è stata portata in America dai primi coloni. Il fiore riprende il simbolismo solare ed era considerata una pianta protettiva. In questo contesto simboleggia la virtù della fanciulla
9) anche l'aver trasformato la massima "se non la cogli quando puoi, non la coglierai quando vorrai" in "se non lo fai quando sei giovane, allora non potrai farlo quando sarai vecchio" indica la volontà di rendere meno brutale la storia.
ASCOLTA Ian Robb in "Ian Robb and hang the Piper" 1979 Nelle note Ian scrive " the bulk of the text and the tune coming from 'This Singing Island', MacColl and Seeger"  da ascoltare su Spotify

I
As I walked out one morning fair,
To see what I could shoot(1),
I there espied a pretty fair maid
Come a-tripping by the road.
CHORUS
And sing, Hail the dewy morning'
Blow all the winds high-O.
Clear away the morning dew,
How sweet the winds do blow.
II
We both jogged on together
'Till we came to some pooks of hay.
She said' "Young man, there is a place,
Where you and I can lay".
III
I put me arms around her waist
And I tried to throw her down.
She said "Young man, the dewy grass
Will rumple my silk gown. "
IV
"But if you come to me father 's house
There you can lay me down.
You can take away me maidenhead,
Likewise a thousand pounds(3)."
V
So I took her to her father's house,
But there she locked me out.
She said' "Young man, I'm a maid within,
And you're a fool without! "
VI
So it's if you come to a pretty maid,
A mile outside of town,
Don't you take no heed
of the dewy grass
Or the rumpling of her gown.
traduzione italiano di Cattia Salto
I
Mentre andavo in un bel mattino
a cercare di impallinare qualcosa (1),
scorsi una giovane e bella fanciulla
che andava a passeggio per la strada.
RITORNELLO
Evviva la rugiada del mattino,
che tutti i venti portano via,
scompare la rugiada mattutina
non appena i venti dolcemente soffiano.
II
Camminammo affiancati
finchè arrivammo a dei covoni di fieno
e lei disse "Giovanotto questo è il posto dove ci possiamo riposare"
III
La strinsi tra le braccia
e cercai di metterla distesa
"Giovanotto, l'erba umida
mi stropiccerà l'abito di seta.
IV
Ma se verrete fino alla mia dimora (2)
allora vi coricherete con me
e prenderete la mia verginità,
insieme a un migliaio di sterline (3)"
V
Così l'accompagnai a casa,
ma lei mi chiuse fuori
dicendo "Giovanotto io sono una vergine all'interno
e voi uno sciocco all'esterno"
VI
Perciò se incontrate una bella fanciulla
ad un miglio dalla città,
non abbiate riguardo
a che l'erba umida
le stropicci il vestito!
NOTE
1) presumibilmente il protagonista è un gentleman che si diletta nella caccia come passatempo
2) la dimora paterna
3) ovviamente si sta riferendo alla dote
Quarta parte continua
FONTI
https://mainlynorfolk.info/eliza.carthy/songs/thebaffledknight.html
http://71.174.62.16/Demo/LongerHarvest?Text=Child_d11204
http://www.mustrad.org.uk/articles/phyllism.htm
http://mudcat.org/thread.cfm?threadid=64609
https://afolksongaweek.wordpress.com/2012/05/20/week-39-stroll-away-the-morning-dew/ http://mudcat.org/@displaysong.cfm?SongID=717 http://mudcat.org/@displaysong.cfm?SongID=1207 http://mudcat.org/@displaysong.cfm?SongID=5962 http://www.rosaleengregory.ca/the-baffled-knight.html http://www.readbookonline.net/readOnLine/43791/